Graphite Higher Secondary School organized Yoga for wellness on the occasion of Yoga day in school premises. More than 200 students participated with great enthusiasm and zeal. Later a quiz was organized at school campus in which nearly 100 students participated. This was followed by 'Omkar' chanting in assembly hall. Total 400 students participated in chanting activity. The event was a huge success. Major achievement being the students learnt about the importance of total well being and how to lead a healthy lifestyle with the help of yoga regularly
To mark the 150th birth anniversary of Mahatma Gandhi, awareness is created among the students to be truthful, follow the principles & ideas of Gandhi. The students have taken the resolution to keep their surroundings clean and say NO to plastic. The teachers and students spread awareness through speeches, slogans, banners, posters showing message to save the earth. Skits and Nukkad-Nataks were presented in the local areas highlighting the importance of pollution free nation and to create an eco-friendly environment.
Youth are the future and assets of the nation. Academically strong and aware youth will make the nation progress towards prosperity. Youth Day was celebrated to help the young generation to know their strength and use it in the right direction and recognize the importance and hard work of the youth of the world and how they have made a difference to the society. Students were asked to use their strength in the right direction to develop their knowledge and use it to make the nation proud & progress.
The day was celebrated to promote ways to engage the young people and help them to contribute even more to their communities and to the society in general. Students were asked to be vigilant and cautious of what happens around them. During the assembly students presented speech & skit to make the students understand their importance for the nation and asked them to be valuable assets of the nation.
Rashtriya Ekta Diwas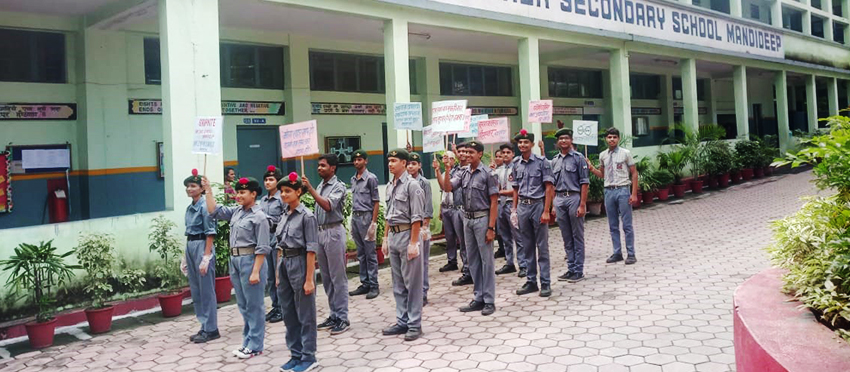 Commemorating the 143rd birth anniversary of Sardar Vallabh Bhai Patel - The 'Iron Man of India' Rastriya Ekta Diwas was observed in Graphite school on 31st October 2018. Students took part in the run for unity program headed by the students of school council & school band.
The students also took oath to preserve the unity, integrity and secularity of the nation in the spirit of unification of the country. Thereafter students engaged themselves in reading, writing and discussing about the life history and contributions of Sardar Vallabh Bhai Patel towards the making of better India.