Career Counselling Session
Graphite Higher Secondary School organized a Career Counselling Session for students of Class XI & XII on 2nd November 2023 . A career counselling session is not just talking and listening. It's an interactive exchange of thoughts to understand yourself and the right career path .Career decisions play a pivotal role in shaping the future growth and development of students. In today's environment of multiple options, know about choices available helps children in their decision making process. The session commenced by Mr.Lokesh Muley, an eminent career counselor, Senior mentor at Topmarkers Ed-Tech. He emphasized the importance of knowing one's potential and subject of interest before making a decision. The session aimed at making the students aware of the multiple career options available. He guided the students to identify their interests and what they are good at the session was informative and enriching as well.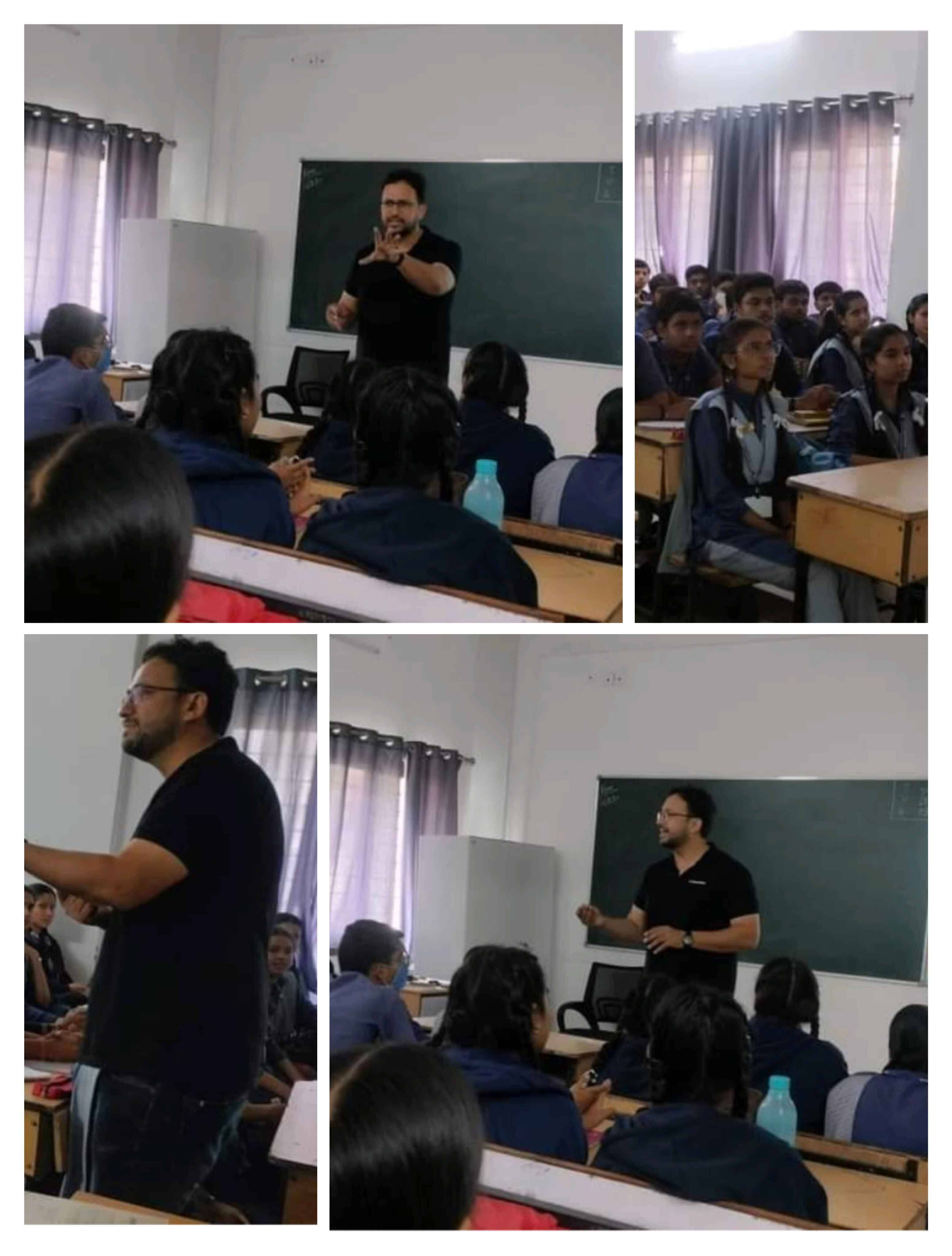 Fire & Safety Training
Safety team explained to Teachers,Staff & Security about fire prevention measures and use of fire extinguisher in case of fire at HEG Graphite School (Seth Phool Chand Nagar)
Teachers,Staff & Security of HEG Graphite School participated in this training
1- In which all the Teachers and staff were told what are the types of fire and what type of fire extinguisher should be used to control it.
2- What could be the reasons for the fire and the measures to prevent it were also discussed.
3- And it was explained that in case of any kind of emergency, immediately inform your nearest officer and immediately inform on the emergency contact number.
June 7 to June 15, 2023
Professional development sessions for SQAA, NIPUN Bharat, NEP 2020 & NCF FS
The exhaustive sessions planned for explanation and demonstration of NCF FS during summer break for empowering teachers were executed between June 7 to June 15, 2023. These sessions were taken as a part of cooperative learning where each chapter of NCF/NEP was assigned to a group of two teachers. The teachers prepared on the given topic and explained to their peers in different innovative techniques. These sessions not only gave insight on NCF FS to teachers but also boosted their confidence.
Overview:
Venue- ICT Laboratory
Participants- All Staff Members
The NCF addresses education for the age group 3 to 18 years, across the entire range of diverse institutions in India. This is across the four Stages in the 5+3+3+4 Curricular and Pedagogical restructuring of School Education as envisioned in NEP 2020. The NCF brings to life the aims and commitments of the NEP.
Methodology Used-
1. Presentation using projector
2. Effective engagement using strategies like group discussion, think-pair-share, role play, quiz, 4-Corners etc
Date
Training Topic
Presented by
Learning Catered for future implementation
Video & Photo
7 June 2023

Classroom Management, NEP and 21 st Century Skills

Mr. Kuldeep Chouhan
Resource Personnel from S. Chand publication

1. Manage a classroom effectively by establishing logical rules.
2. Deal with difficult behaviours by working on collaborative solutions.
3. Give clear instructions, organize pair and group work, and develop positive relationships.
4. Motivate learners and get them to reflect on their behavior. 5. The 21 st century skills focus on asking questions to encourage critical thinking, inquiry and reasoning. In all, students evaluate, synthesize and translate ideas to solve problems and complete projects

Click Me
8 June 2023

SQAA Domains

Mrs. Swati Rahatekar

1.The SQAA focuses on four pillars for quality education- self evaluation by schools, gap assessments and improvement, accountability, collaboration and innovation.
2. Recognizing SQAA as a set of standards and best practices as paradigms for attaining individual and institutional excellence.
3. Recofnizing SQAA as a set of elaborating all 8 domains of SQAA through exhaustive demonstration.
4. Maintenance of all records as per SQAA domains from session 2023-24.

Click Me
8 June 2023

NIPUN Bharat

Mrs. Neha Dubey

1.To cover the learning needs of children in the age group of 3 to 8 years.
2. Aims for holistic development of child by focusing on different domains of development.
3. Focuses on "Learn to Read" till class II and then "Read to Learn"- making students independent and competent learners.

Click Me
9 June 2023

NCF FS Ch: 1 Preamble & Introduction

Mrs. Manisha P.
Mrs. Seema P.

1.Enriching the learning-teaching environment and making it more child-centric, lively and joyful for the Amrit Generation as envisioned in the NEP 2020

Click Me
9 June 2023

NCF FS Ch: 2 Aims, Curriculur goals, Competencies and Learning outcomes

Ms. Ankita B.
Mrs. Deepti S.

1.The CORE transformative aspects of NCF-FS are 'learn through play' as foundational stage-ages 3-8, learn best and effectively through play.

Click Me
10 June 2023

NCF FS Ch: 3 Approach to language education & literacy

Mrs. Neeta C.
Mrs. Varsha T.

1.'JaduiPitara' comprises of playbooks, toys, puzzles, posters, flash cards, story books, worksheets as well as reflecting the local culture, social context and languages.

Click Me
10 June 2023

NCF FS Ch: 4 Pedagogy

Mrs. Divya C.
Ms. Priya T.

1. Bring significant changes in the education system of India by providing a holistic and multidisciplinary approach to education.

Click Me
11 June 2023

NCF FS Ch: 5 Choosing, Organizing and Contextualizing content for teaching

Mrs. Soma P.
Mrs. Madhusmita S.

1. Learning and Development in 5 domains: Physical Development, Socio-emotional and Ethical Development, Cognitive Development, Language and Literacy Development, Aesthetic and Cultural Development, Positive Learning Habits has been included as another domain of development at this stage.

Click Me
11 June 2023

NCF FS Ch: 6 Assessment for furthering learning objectives

Mrs. Anshu S.
Mrs. Kamini M.

1. Gave detailed information on how to assess the performance of students and teachers, through planning- execution and assessment.

Click Me
13 June 2023

NCF FS Ch : 7 Organizing Time

Mrs. Rohini R.
Ms. Shweta S.

1. Explaining importance of time and its management.
2. Utilized the schedule specified for age group 3-6 for the preparing the timetable of PPRT this session.

Click Me
13 June 2023

NCF FS Ch: 8 Additional Critical Areas

Mrs. Nutan R.
Ms. Ragini R.
Mrs. Sama A.

1. To realize the highest quality education for all children, consistent with realizing an equitable, inclusive, and plural society as envisaged by the Constitution of India
2. Accommodate the diverse needs of learners in the foundational stage.

Click Me
14 June 2023

NCF FS Ch: 9 Linkages to the preparatory stage

Ms. Sakshi S.
Mrs. Chinky K.

1. Improve foundational skills of children to reduce dropouts. Increase the number of students clearing the primary, upper primary and secondary stages. It envisions an enhanced education quality due to conducive and activity based teaching.

Click Me
National Education Policy NEP-2020
The National Education Policy of India 2020 (NEP 2020), which was started by the Union Cabinet of India on 29 July 2020, outlines the vision of new education system of India. The new policy replaces the previous National Policy on Education; 1986.The policy is a comprehensive framework for elementary education to higher as well as vocational training in both rural and urban India. The policy aims to transform India's education system by 2030.
Venue- ICT Laboratory
Participants- All Staff Members
Learning Objective-
1. To improve level of awareness
2. Knowledge transfer amongst the colleagues
3. To enhance and polish existing skill of participants
4. To give continuous opportunities to participants for self-improvement
5. To let the participants learn the latest innovations
6. To let the participants know about all the aspects of NEP-2020
Methodology Used-
1. Presentation using projector
2. Effective engagement using strategies like group discussion, think-pair-share, role play, quiz, 4-Corners etc
Date
Training Topic
Presented by
Learning Catered for future implementation
Video & Photo
08/06/2023 12:15 pm -12:45 pm

Introduction of NEP-2020

Ms. Kunda Landge
Ms. Manisha Shrivastava

1. Participants came to know about the major amendments done in NEP-2020.
2. Acknowledge the concept of 5+3+3+4.curriculum structure.
3. Importance of tracking the progress of learners at all stages.
4. Reason of introducing Vocational education courses/programmes .
5. Facilitating different modes of learning, including both formal and in-formal education modes
6. Importance of Introducing counselors and well-trained social workers into the schooling system.

Click Me
09/06/2023 8:45 am – 9:30 am

Chapter 1. Early Childhood Care & Education

Ms. Neeta Bhansali
Mr. Manoj Ricchariya

1. The currently informal nature of ECE may give way to education that revolves around reading, writing, and arithmetic.
2. Creating conducive learning environments at school and at home by creating empowered parents, equipped teachers and enriched classrooms to ensure holistic development of each child.


Click Me
09/06/2023 9:40 am – 10:30 am

Chapter 2. Foundational Literacy & Numeracy

Ms. Vartika Rai
Ms. Seema Garg

1. It is the teacher's role to emphasize connections, encourage sharing of strategies.
2. Creating environment to promote a language to talk about mathematics, make the mathematics explicit, raise challenges.
3. Encourage students to reflect on what they have learned, how they learned and what assisted them in their learning.


Click Me
10/06/2023 8:45 am – 9:30 am

Chapter- Curtailing Dropout Rates and Ensuring Universal Access to Education at All Levels

Ms. Afreen Qureshi
Ms. Shalini Jain

1. Think critically about the reasons of dropouts.
2. Compare and contrast the learning environment of government schools and public schools.
3. Find out the methods of promoting education and bringing students back to school.
4. Gained confidence to speak over different education systems like night schooling,NIOS, SIOS etc.


Click Me
10/06/2023 9:40 am – 10:30 am

Chapter-4 Curriculum & Pedagogies in school

Ms. Shashi Shrivastava
Ms. Kavya Yadav

1. Explain the meaning and importance of pedagogy.
2. Understand the need and importance of vocational education.
3. Understand the importance of new curriculum.
4. Importance of playway and activity based learning.

Click Me
12/6/2023 8:45 am – 9:20 am

Chapter-5 Teachers

Mr. Nitin Dasondhi
Ms. Chandrakala Mandloi

1. Came to know more about the meaning of teacher and its professional standards.
2. Compare and contrast between CPD & CPM.
3. Understand the changes in teaching profession to achieve the objective of NEP-2020.

Click Me
12/6/2023 9:30 am – 10:05 am

Chapter -6 Equitable and Inclusive Education: Learning for All

Ms. Keerti Khapre
Ms. Meenakshi Roy

1. Ensuring the inclusion and equal participation of children with disabilities in ECCE and the schooling system will also be accorded the highest priority.
2. Children with Disabilities will be enabled to fully participate in the regular schooling process from the foundational stage to higher education.

Click Me
12/6/2023 11:15 am-12:00 noon

Chapter-7 Efficient Resourcing and Effective Governance through School Complexes/Clusters

Mr. Praveen Sharma
Ms. Sharda Batham

1. Think Critically about the importance of resource sharing.
2. Compare and contrast between Nuclear schools and cluster schools.
3. Importance of integration of school at all levels.

Click Me
12/6/2023 1:20 pm-2:00 pm

Chapter-8 Standard-setting and Accreditation for School Education

Ms. Ankita Sharma
Ms. Manorama Sharma

1. Explain the roles and recommendations of the state school education system.
2. Understand the role of SSSA,SQAAF,PARAKH to ensure the integrity of the system through the enforcement of complete transparency and accountability both in public and private schools.

Click Me
14/06/2023 11:00 am-11:45 am

Chapter-9. Quality Universities and Colleges: A New and Forward-looking Vision for India's Higher Education System

Mr. Sheikh Zubair

1. Teachers are now aware about the major changes suggested by NEP-2020 for Higher Education in India.
2. Teachers are now able to identify the knowledge, skills and attitudes that learners should develop through the courses.

Click Me
14/6/2023 1:20 pm-2:00 pm

Chapter-10 Institutional Restructuring and Consolidation

Mr. Anuj Saxena
Mr. Sanjeev Singh Thakur

1. Know about from teaching intensive institute to research intensive institute.
2. Understand the importance of multidisciplinary courses in Higher Education Institutions (HEIs).
3. Ensuring full access, equity and inclusion in underserved regions.

Click Me
INTERACTIVE SESSIONS OF TEACHERS
Type :-
One-to-one
With :-
Capt. Jaspreet Kaur, academic coordinator LNJ group schools.
In the Presence of :-
Ms. Swati Rahatekar, Principal GHSS.
Mode :-
Online
Agenda point of the sessions :
1. Strategies for strengthening student centric approach
2. Strategies for AIL in the classroom TLP
3. Strategies for incorporating experiential learning in classroom TLP
4. Knowledge of NEP 2020 and NCF 2022
5. Self Empowerment planning 
Outcomes:
1. Teacher's resourcefulness strengthened.
2. Teachers had healthy discussion over different types of teaching-learning strategies.
SCHEDULE OF VIRTUAL INTERACTION
| S.No. | Date | Name of Teacher | Post | Duration |
| --- | --- | --- | --- | --- |
| 1 | 01-Jun-23 | Anuj Saxena | TGT | 10.00-10.30 am |
| 2 | 01-Jun-23 | Kavya Yadav | TGT | 10.45-11.15 am |
| 3 | 01-Jun-23 | Kamini Malviya | PRT | 11.30-12.00 noon |
| 4 | 01-Jun-23 | Ramesh Jatav | TGT | 12.15-12.45 pm |
| 5 | 01-Jun-23 | Sanjeev Singh Thakur | TGT | 01.00-1.30 pm |
| 6 | 02-Jun-23 | Shweta Singh | PRT | 10.00-10.30 am |
| 7 | 02-Jun-23 | Madhusmita Sahoo | PRT | 10.45-11.15 am |
| 8 | 02-Jun-23 | DiptiSahaa | PRT | 11.30-12.00 noon |
| 9 | 02-Jun-23 | Seema Pal | PRT | 12.15-12.45 pm |
| 10 | 02-Jun-23 | Nutan Rai | PRT | 01.00-1.30 pm |
| 11 | 03-Jun-23 | Chinky Kaur | PPRT | 10.00-10.30 am |
| 12 | 03-Jun-23 | Sama Ali khan | PPRT | 10.45-11.15 am |
| 13 | 03-Jun-23 | Manisha Parmar | PPRT | 11.30-12.00 noon |
| 14 | 03-Jun-23 | Varsha Tiwari | PPRT | 12.15-12.45 pm |
| 15 | 10-Jun-23 | Ms. Reena Parihar | PRT | 12.00-12.30 am |
| 16 | 10-Jun-23 | Ms. DeepikaVerma | PRT | 12.30-01.00 am |
| 17 | 10-Jun-23 | Ms. Sakshi Sharma | PRT | 01.00-01.30 pm |
| 18 | 10-Jun-23 | Ms. DivyaChouhan | PRT | 01.30-02.00 pm |
| 19 | 12-Jun-23 | Mr. Nitin Kumar | TGT | 10.00-10.30 am |
| 20 | 12-Jun-23 | Ms. Meenakshi Roy | TGT | 10.45-11.15 am |
| 21 | 12-Jun-23 | Ms. Chandrakala Mandloi | TGT | 11.30-12.00 noon |
| 22 | 12-Jun-23 | Ms. Sharda Batham | TGT | 12.15-12.45 pm |
| 23 | 12-Jun-23 | Mr. Sheikh Zubair | TGT | 01.00-1.30 pm |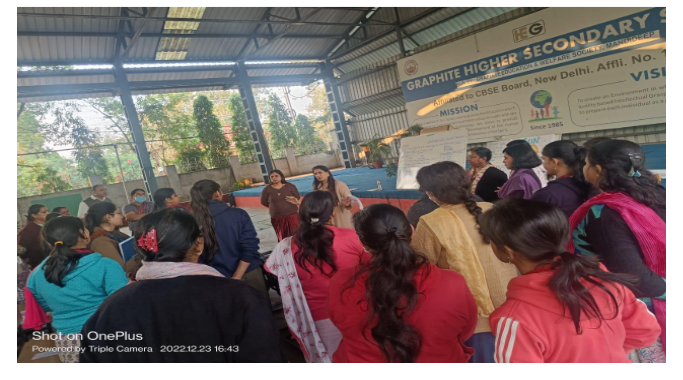 Training Session on Lesson Plan
An offline training session was conducted on 23rd and 24th December in school for teachers to stimulate innovation in teaching learning approaches. Resource person Captain Jaspreet emphasized on trying various strategies in classroom to make the students learn new things so that they can enhance their skills.
Learning Objectives Achieved :- Emphasized on trying various strategies in classroom to make the students learn new things so that they can enhance their skills.
Future Plan :- Teacher will enhance their skills in TLP to cater / deliver their students which improves learning methodologies.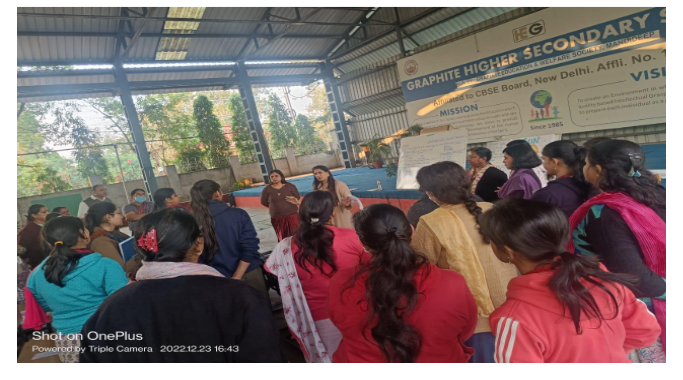 Science Workshop - Space and Beyond
As part of our continued efforts to get young minds interested in Space Science a workshop called 'Space and beyond 'was organised. This workshop was conducted by Aryabhatta Foundation at Gurukul Auditorium. Aryabhatta Foundation is dedicated to creating workshops for innovative projects to popularise science among children. Mr. Sanjay Gupta from foundation gave valuable and informative knowledge about space technology and astronomy. Science stream students from classes 9th to 12th attended the workshop to gain practical knowledge about astronomy and enriched their understanding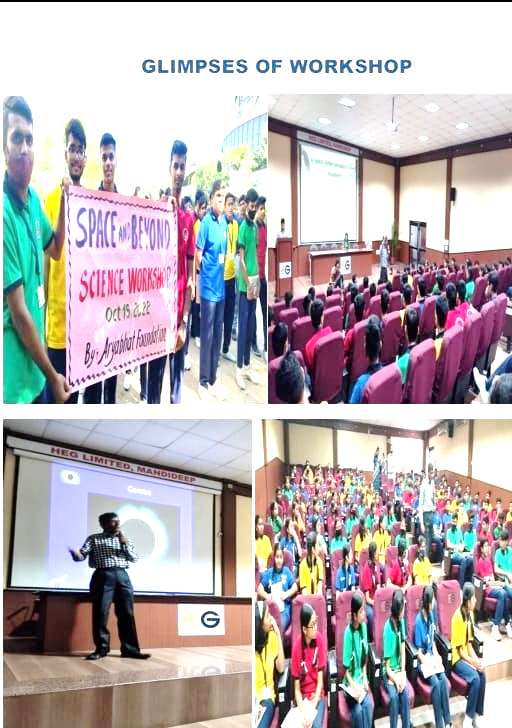 Chrysalis Training
This training will be fruitful to students as well as the best opportunity to learn a new format of teaching and learning to the teachers. Special thanks to Principal Ma'am Ms. Swati Rahatekar and Chrysalis for organizing such a wonderful training which comprises of - Detailed despcription of the entire training, Key take aways from it and Learning outcomes. The resource person for this training was Ms. Vidhi Sharma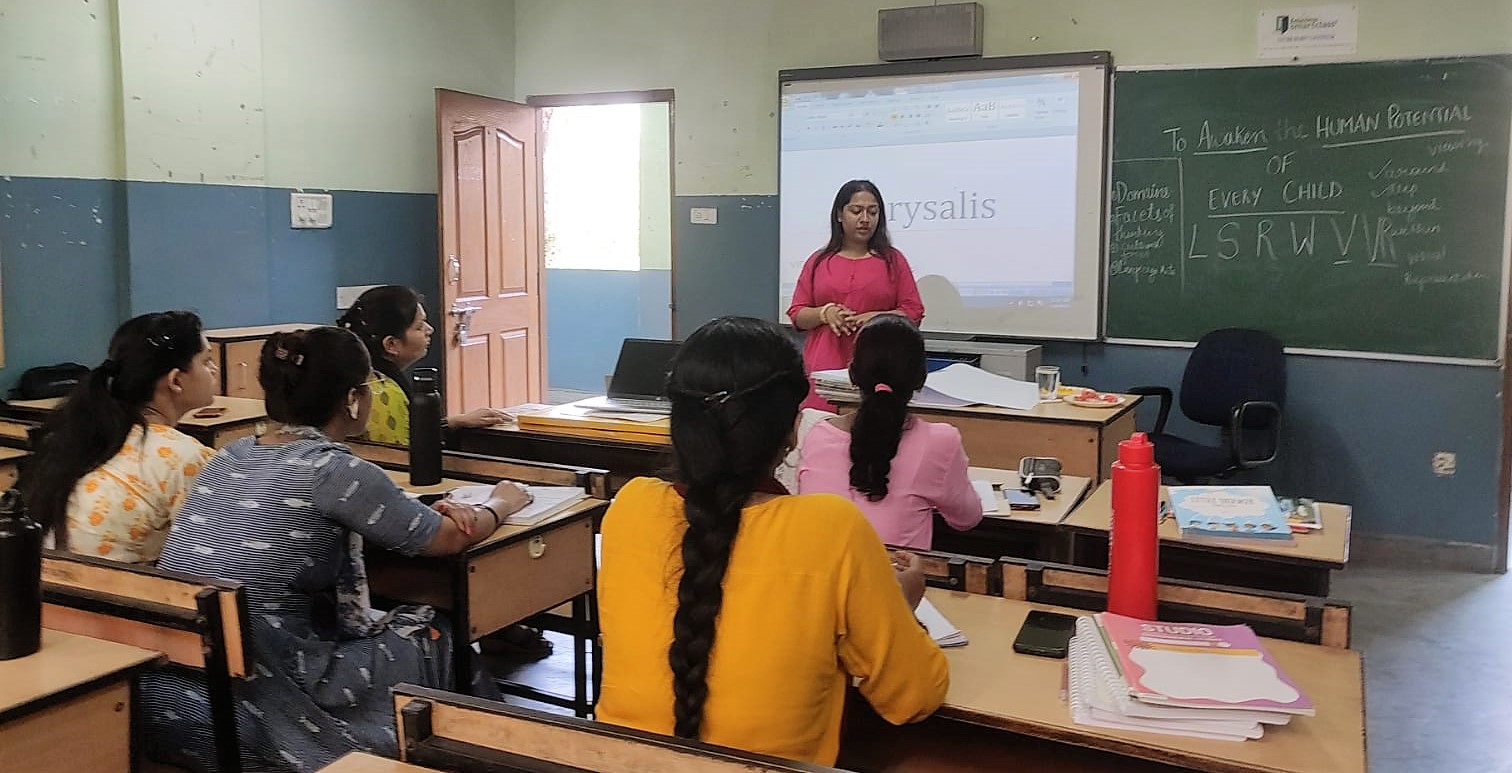 Orange Workshop
Orange publications has organised a workshop for explaining the curriculum of AI from class VI to IX. Six teachers from Graphite attended the workshop. It helped the teachers to understand the curriculum and further cascade it to the concerned in turn. The workshop was a fruitful one which helped to clarify the concept well. The resource persons were – Ayush Tiwari and Ashish Tiwari.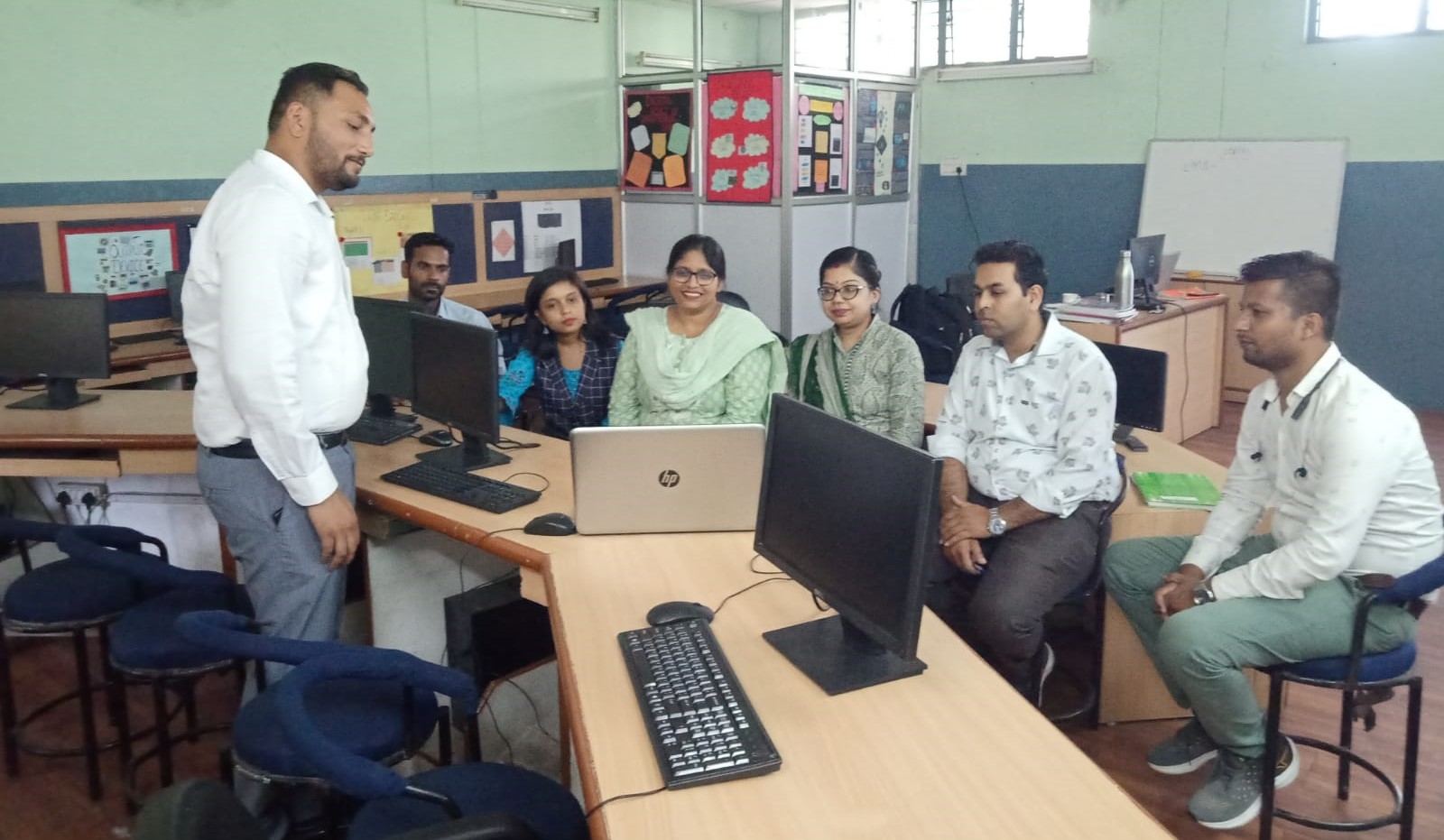 Participation in Workshop on Science
A workshop on science (Chemistry) was held on June 22-23, 2018, at Fr. Agnel Co-Ed Sr. Sec School, Gandhi Nagar, Bhopal. The workshop was conducted by Dr Brijesh Pare. Smt. Divya Sharma, Head of the Department of Chemistry, Graphite School, attended the workshop. In the workshop, a module of Active Learning Techniques of Chemistry was presented and the emphasis was on the chemical equations and chemistry practicals.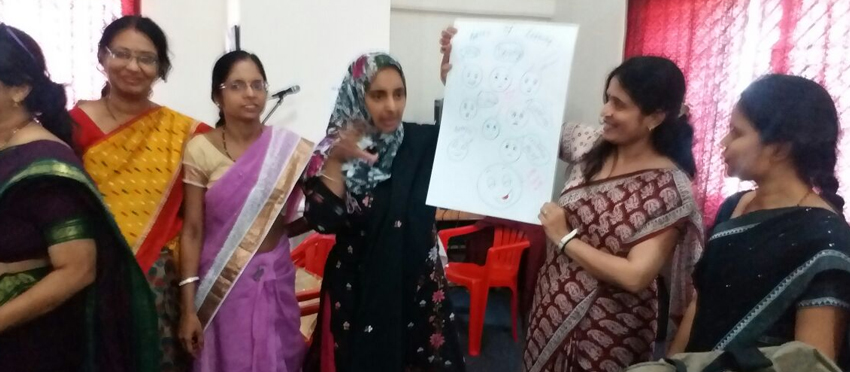 Geeta Gayan Pariksha
Geeta Gayan Pariksha was conducted by Chinmay Mission in which 610 students participated. At the city level 65 students were selected to participate in the next level competition to be held at Chinmay Mission Ashram, Saket Nagar, Bhopal. In the competition, Graphite school students recited the shlokas with confidence and the fluent rendering of Sanskrit words by students was appreciated by all.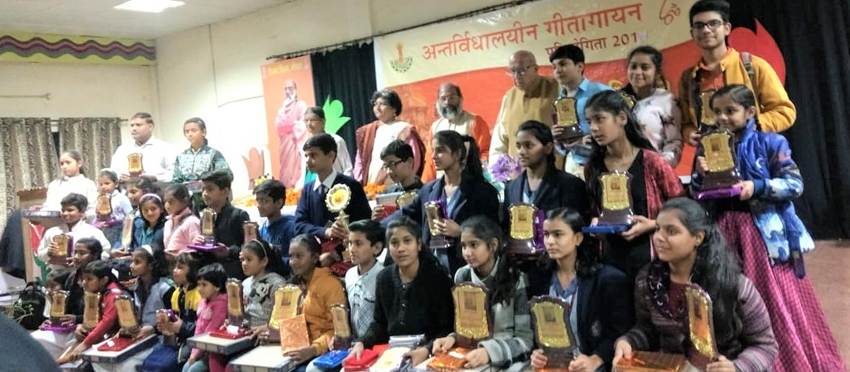 Workshop on Safety & Lifeskills Care
A workshop cum consensus building on project CACA to laud the issue of child safety was organised at Sagar Public School Gandhi Nagar Bhopal. The project CACA is a school driven, child-centric, preventive and holistic project that creates a safety net for children from abuses. The project CACA initiates a series of school driven dialogue and behavior changes among all the stake holders i.e. children, parents, teachers and non-teaching staff on child rights, gender equality and child abuse. The essence of the project is responsibility, trust & collaboration among the stake holders.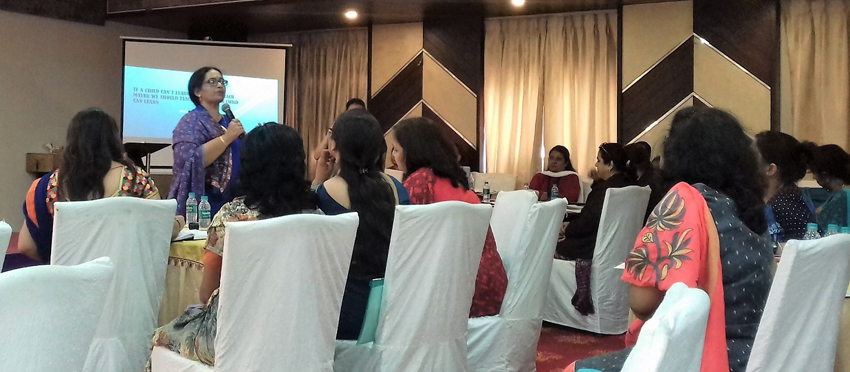 Two teachers from Graphite school Ms C. Madhumati & Ms Anshu Shrivastava attended the workshop and it was an eye opener on various issues related to the safety of students in the school. Special cell of teachers as responsible persons for developing awareness in students & for safety of students was constructed during the workshop. Students were told about the unsafe situations they may face and the ways to come out of it safely. They were also told about the POCSO-E BOX created by NCPCR POCSO - Act 2012 and how they can use it.
Fire Safety Training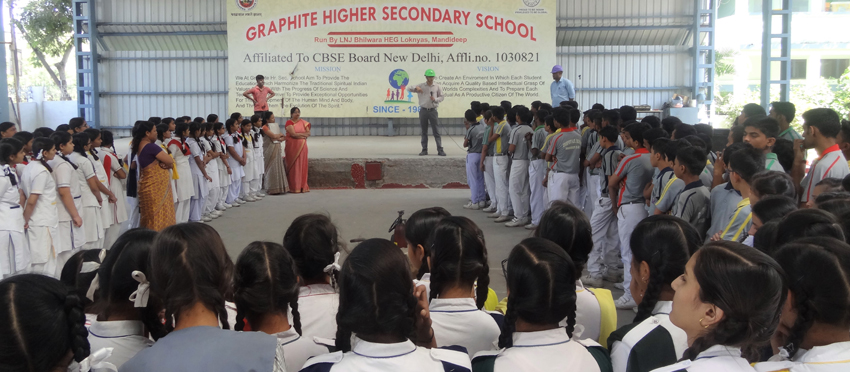 Fire safety training conducted at Graphite School on 29th October 2018. Total 90 students participated in this training. Students of different classes understood about the basics of fire fighting and their equipments. Practical Demonstration for operation of F/E was also carried out for students. It was a great learning experience for all the students as they got to know that how to react in fire emergency situations.